PREVIEW: Green Cup 2015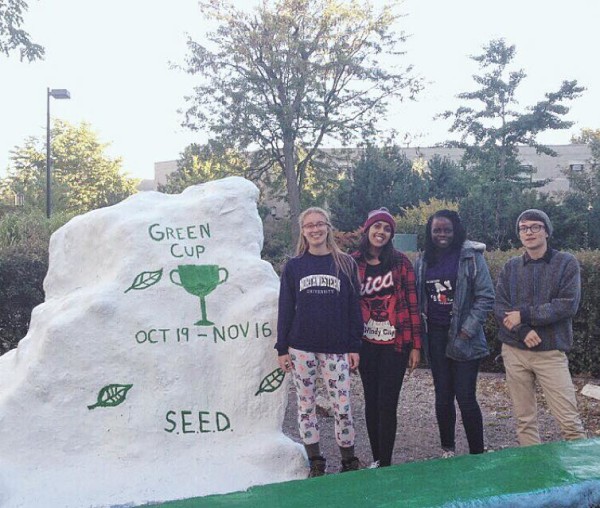 By Rachael Sarette and Christina Cilento
Mid-October: the season when environmentalists click their heels down Sheridan Road singing "It's the Most Wonderful Time of the Year." Folks, it's Green Cup.
Green Cup, a competition between residence halls and Greek houses to see who can save the most water and energy in a month, will take place from Monday, October 19 to November 15. The goal of the contest -- besides energy and water reductions -- is to promote more sustainable living by "engag[ing] students in behavior change and provid[ing] a better understanding of the impact of their daily activities," according to the Office of Sustainability website. The Office of Sustainability reports that in 2014, Green Cup conserved 91,142 gallons of water and more than 15,000 kilowatt hours of electricity, resulting in a savings of about $7,000.
Katie Braun, the Green Cup chair for SEED (Students for Ecological and Environmental Development), said Green Cup teaches students how important individual actions are to making an environmental impact "Living on campus can seem like we're cut off from the wider world sometimes, but we really aren't ," said Braun. "Green Cup reminds us of that connection and encourages sustainability practices that we can use for the rest of our lives."
Students earn points for Green Cup by reducing their water and energy use as well as by attending Green Cup events, some of which are listed below. At the end of the competition, the residence hall and Greek house with the most points, wins a cash prize! For a complete list of events, see the official Green Cup schedule.
WEEK 1: "WOOH! A strong start!"
"Food for Thought, Food for Life" Short Film Screening and Discussion Tuesday, October 20 6:00 pm Annenberg G15 Join Real Food at NU and Dance Marathon for snacks and a short film about agriculture and the need for a sustainable food system.
Discussion with Jim Furnish Tuesday, October 20 6:30-8:30 pm University Hall 122 Jim Furnish, former US Forest Service Deputy Chief, will lead a discussion about the future of forests and his new memoir, Toward a Natural Forest: The Forest Service in Transition.
"The Ethics of What We Eat" - a talk by Rachel Atcheson Thursday, October 22 8:30 pm Tech LG76 Rachel Atcheson of the Humane League will be giving a talk about industrialized and animal agriculture. Hosted by the NU Veg Society.
"Hidden Harvest" - Scavenger Hunt Friday, October 23 2:00-5:00 pm Check the Real Food at NU Twitter for location clues! A scavenger hunt presented by Real Food at NU and Chicago Food Day. Follow the clues to find prizes worth $200!
Urban Agriculture Trip to Loyola University Saturday, October 24 10:00 am-1:00 pm Meet at the Foster El stop at 10:00 am Check out Loyola's urban and sustainable agriculture initiatives, like their gardens, greenhouse, aquaponics system, biodiesel lab and more! Sign up with this form.
Eco-Reps Scavenger Hunt Saturday, October 24 3:30 pm Norris East Lawn Learn about sustainability at NU by finding sustainable features of our campus! Winning teams receive extra Green Cup points. Hosted by Eco-Reps.
WEEK 2: "This is still kinda fun!"
Wild Roots Work Day Wednesday, October 28 1:00-2:30 pm Wild Roots Garden (Norris, South Lawn)
Green Tea with GREEN House Sunday, November 1 8:00-9:00 pm GREEN House lounge, 2303 Sheridan Road Join GREEN House for tea, snacks and a conversation about sustainability!
WEEK 3: "Wow how has it not been a month yet."
A Teach-In for Climate Justice Thursday, November 5 7:00-8:00 pm Harris L07 Join Fossil Free Northwestern to learn about all aspects of climate justice and their fight for divestment.
Wild Roots Work Day Sunday, November 8 1:00-2:30 pm Wild Roots Garden (Norris, South Lawn)
WEEK 4: "I can do this! Almost there! Green Cup for LIFE!!!"
Green Basketball Game Friday, November 13 7:00 pm Welsh-Ryan Arena NU Basketball goes green by featuring programming on sustainability and recycling during the game. This game is organized and hosted by the Athletics Sustainability Committee.
Environmental Day of Service Saturday, November 14 9:00 am-12:00 pm Locations across Evanston. Meet at Norris ground floor at 8:40 am. Volunteer at one of several environmental organizations across Evanston! This event is hosted by the ASG Sustainability Committee.
Green Fest Saturday, November 14 Time TBA Louis Room, Norris Join Eco-Reps and other environmental organizations to learn about sustainability opportunities at NU and play games!