Spring 2016 Environmental Class Preview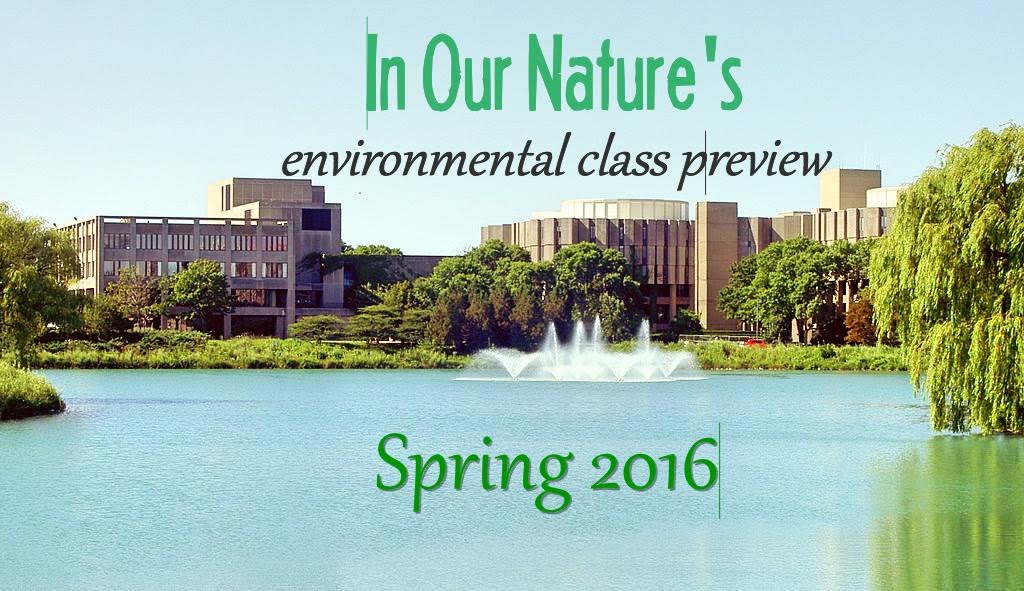 By Scott Brown, Lan Nguyen, Jamie Leventhal, Annie Cebulski, Virginia Nowakowski, Hyunjee Lee and Christina Cilento Spring will be here soon, why not add a little green into your class schedule? Scroll down to check out our preview of the environmental classes coming up and then start filling up that CAESAR shopping cart!
BIOL_SCI 103: Diversity of Life
Basics:
Professor Gary John Galbreath.
M/W/F 3:00-3:50 p.m.
Tech L361
Natural Science Distro Area
Description: Find out everything you didn't learn about evolution in high school. This class will give you a history of life of Earth's organisms, focusing on the evolution and diversification of living things since the first appearance of life. You'll also discover how scientists form questions as they study the natural world.
What you will get out of this class: "I want students to have a sense of how the process of natural selection works, not quantitatively, but in a qualitative sense because I find that virtually everyone graduates high school without having a clue of how natural selection actually works," says Professor Galbreath. He also wants students to observe "the the panorama of life over time and how organisms have evolved from common ancestors and diversified"and understand "how scientists ask questions about the world."
Best CTEC: "I've never taken a class with a professor more excited about the subject matter. Easy and interesting, 10/10 would distro again"
Earth 105: Climate Catastrophes in Earth History
Basics:
Professor Matthew Hurtgen
T/TH 12:30-1:50 p.m.
Tech Lecture Room 3
Natural Science Distro
Description: Students will learn about the atmosphere, hydrosphere and solid Earth, seeing how these all interact to control climate. You will also get to examine how the climate has changed throughout the years and what path it may take in the future.
Best CTEC: WE LEARNT WHY THE DINOSAURS DIED.
Earth 106: The Ocean, Atmosphere, and Our Climate
Basics:
Professor Blair
T/TH 9:30-10:50 a.m.
Tech F285
Description: "The Ocean, the Atmosphere and our Climate" is an introduction to oceanography and how oceans interact with global climate and weather. Students learn a lot about the chemistry, physics, biology, and geology of oceans and lakes in this class; and since Northwestern happens to be right on a lake, Prof. Blair is known for taking the class to the beach during the warm spring days! Topics are also tied in with current events, such as the Deep Water Horizon disaster, as the template for lectures.
What you will get out of this class: "Students will gain an appreciation of how the ocean is critical to their lives, even if they live in the Midwest," said Prof. Blair. "Northwestern's own coast line on Lake Michigan is used for class activities that demonstrate basic approaches to studying the ocean."
Best CTEC: "You get to spend some classes OUTSIDE ON BEACH AND LAKEFILL, so that's wonderful during spring quarter. And NO EXAMS!"
Earth 201: Earth Systems Revealed
Basics:
Professor Jacobson
M/W/F 12-12:50 a.m. + Lab
Tech F389
Description: Earth Systems Revealed is a very popular class and as a result, students need to fill out an application in order to get a chance to take it. But don't worry; you don't need to have an impressive rock collection to get in. All you have to do is express your curiosity and passion to learn more about the Earth's minerals, seismicity, atmosphere and more. The course studies the physical, chemical and biological processes that shape the Earth, so if you've ever wondered where lightning comes from or why it's so freaking cold in Chicago, sign up!
What to get out of this class: In addition to getting a better understanding of the qualities of each of the planet's systems and how they interact with one another, students also get to go on a field trip to Baraboo, Wisconsin to get a hands-on experience of what they learned throughout the course.
Best CTEC: "I really like how [this class] changes your view on the rocks you see in every day life."
Earth 330: Sedimentary Geology
Basics:
Professor Bradley B. Sageman
T/TH  9:30-10:50 a.m.
Tech F285
Requires Earth 201 or equivalent
Natural Science Distro
Description: Get a review of sedimentary rocks, principles of stratigraphy and sedimentology, analysis of ancient depositional systems, cyclostratigraphy and sequence stratigraphy - or learn what all of these terms mean!
What you will get out of this class: EARTH 330 is an upper level course for undergraduate geology majors and graduate students that delves into the nature and origin of sedimentary rocks and the processes that dominate in the different environments in which these rocks form.  The course is stand-alone, but also serves as a prerequisite for the 3.5 week field excursion to Colorado and Utah (late August to mid Sept. 2016) that culminates in a Fall quarter class - EARTH 331 - in which students create a field report based on the trip out west.
Best CTEC: If you are interested in taking the field course, this course is a must. If not, hopefully you really love describing and classifying facies.
Earth 351: Forming a Habitable Planet
Basics:
Professor Donna Jurdy and Professor Seth Stein
M/W 3-4:20 p.m.
Tech F285
Natural Science Distro
Description: Hello, Earthlings. Wanna know about your home planet? Then this is the class for you because Earth is lit--by just the right amount of sunlight. It's currently the single planet hosting life...as we know it. Come find out what makes life a possibility, and question if we're alone in this universe. Learn about the "Great Silence," the "Rare Earth" hypothesis and whether life on Earth is here to stay. What you will get out of this class: Good planets are hard to find! A great way to emphasize the importance of caring for our planet is to look for another.  We learn in Earth 326 that human-type life requires a narrow range of conditions: a planet with right temperatures  for liquid water and breathable oxygen atmosphere. A complicated system of the sun, solid earth, ocean, atmosphere, and life interact in complicated ways that keep Earth habitable.  Comparing Venus (too hot),  Mars (too cold), and Earth (just right) suggests that such planets - and hence intelligent life in the universe - may be rare. This bring out a sobering thought -  it's not clear how vulnerable earth's climate is to changes that might make it so hot ("greenhouse") or so cold ("icehouse") to significantly impact civilization.
Best CTEC: I loved learning about Earth's unique history and how it measures up to other planets throughout our universe. Equally exciting were all the discussions we had on the possible existence of alien intelligence. Plus, it was a pleasure to have two instructors; it never got boring.
ECON 370: Environmental and Natural Resource Economics
Basics: 
Professor Kiesling
T/TH 12:30-1:50 p.m.
Tech Lecture Room 4
Description: When you saw a list of environmental classes, you might have pictured lectures on Thoreau, not a class analyzing externalities and profit margins. However, Professor Mark Witte says analyzing the economics behind environmental problems is "necessary to understand and reduce the rising dangers resulting from global climate change." This class analyzes the microeconomic factors behind issues such as pollution, endangered species and overconsumption of resources, letting you put your money where your mouth is when thinking about practical environmental solutions.
Best CTEC: "If you are looking for a class that will teach you something you should know as a human being, take this course."
ENVR_POL 390-20: Environmental Justice
Basics:
Professor Harley
W 3:30-6:20 p.m.
Tech LG66
Description: If you're ready to get your activism-juices flowing, take this class and learn more about the injustices that disadvantaged groups face when it comes to environmental issues. This is not a class that focuses on "what-ifs", but rather specific cases and direct solutions.
What you will get out of this class: Weinberg junior Laura Beshilas states that Prof. Harley "has [students] thinking about issues in a very concrete way" and teaches them "how the environmental world really works." If that's not enough of a selling point, CTECs state that Prof. Harley often lets class out early (probably so that students have time to hit up some environmental justice protests).
Best CTEC: "Harvey is actually brilliant. He speaks articulately, smoothly and purposefully the way only a lawyer could."
ENVR_POL 390-24: Topics in Ethnobiology
Basics:
Professor Eli Suzukovich III
M/W 11 a.m.- 12:20 p.m.
555 Clark B03
Social & Behavioral Sciences distro area
Description: What the hell is ethnobiology, arewerite? Well, it's the "scientific study of dynamic relationships among peoples, biota, and environments." And what the hell is a biota? It's the animal and plant life that live in a specific area or period of time. SO! This course will cover case studies looking into community-based land management practices from across the globe, from Central Asia, to Chernobyl, to Yellowstone, to Chicago.
What you will get out of this class: By the end of this course, you'll be able to put the prefix "ethno-" in front of anything you say and sound super fancy, but actually understand what it is you're saying! Ethnobotany, ethnozoology, you name it!
ENVR_POL 394: Riding the Tiger, or Launching an International Project
Basics:
Professor Gordon Davis
M 3-5:50 p.m.
University Hall 101
Description: International environmental development often sounds glamorous, offering the opportunity to live abroad and find solutions to environmental issues. But the reality of the work can be harsh, butting heads with culture, funding and politics. This experience-based class will place you in a group to create a business plan for a sustainable project in a developing nation, simulating the rewards and challenges of NGO work.
What you will get out of this class: Professor Davis, an environmental attorney who ran his own environmental NGO in China, envisions this class offering a hands-on simulation of international environmental consulting that pushes students to think outside the classroom.
Best CTEC: "Gordon is so knowledgeable and is great at playing devil's advocate to challenge you to think deeply about these issues… Also, I wish Gordon was my grandfather so he could tell me stories of his youth..."
ENVR_SCI 201: Earth: A Habitable Planet
Basics:
Professor Beddows
T/TH 3-4:20 p.m.
Tech M345
Description: Have you ever wondered about the Earth beneath your feet, and the processes that occur to keep it spherical and lush? Well look no further - this class is a wonderful introduction to looking at the Earth from a biogeological standpoint. You'll learn about the physical processes governing environmental systems, from the water cycle to the atmosphere. You'll also be exposed to current day debates over physical science resources - energy, water resources, and climate change are just a few topics! Buckle up because this class is not an easy A; there is a lot of material covered (as is with all Northwestern classes) but if you go into class with an open mind, you'll be surprised by all the things you learn.
What you will get out of this class: "Students gain a better understanding of different environmental cycles and how they affect us as human beings, especially in terms of global warming," says McCormick senior Taylor Riley. "The course also gives students the opportunity to think outside of the box to discuss different ways to approach these problems."
Best CTEC: "I loved Professor Beddows. She reminded me of Miss Frizzle from Magic School Bus and I loved it."
ISEN 230: Climate Change and Sustainability: Economic and Ethical Dimensions
Basics: 
Professor Sageman and Professor Kiesling
T/TH 3:30-4:50 p.m.
Annenberg G21
Description: ISEN 230 is like the cheese sampling of sustainability. It's taught by different professors who each cover a different area of sustainability, first starting with human-caused climate change, then delving into the ethics of environmentalism, and ending with an analysis of the economics behind mitigating climate change. If you can't really make up your mind if you want a science course, a philosophy course, or an economics course, ISEN 230 rolls 'em all into one.
What to get out of this class: "ISEN 230 taught me how interconnected the different facets of sustainability are and just how important it is to consider not only the scientific side, but also the economic and ethical angles when facing environmental challenges," said McCormick junior Emily Northard.
Best CTEC: "It's really easy though and who are we kidding that's exactly why you're taking ISEN anyway. Now here are CAPITAL LETTERS so you look at this post!!!!!!!!!!!!! :)"
PHIL 268: Ethics and the Environment
Basics:
Professor Kraut
T/TH 12:30-1:50 p.m.
University Hall 122
Description: "Dude, like, what IS nature even?"  If you've ever had a thought even remotely similar to those lines, this class is for you. Students in "Ethics and the Environment" will think about and discuss the morality, politics and value involved in major environmental issues, including climate change, human interactions with animals and the value of beauty in nature.
What to get out of this class: Prof. Kraut states that "Even though some of these issues are abstract, they all have definite implications for everyday life… I hope [students] come away from the course with a recognition that there is a philosophical component to environmental issues, and that philosophical part of it is hard, the way philosophy is hard."
SOCIOL 376: Environment, Politics and Society
Basics:
Professor Maria Akchurin
T/TH 11 a.m.- 12:20 pm
Garrett-Evangelic Seminary 107
Social & Behavioral Sciences Distro Area
Description: This class explains why environmental issues are so important. Crosslisted under the sociology department and environmental policy and culture department, this course will explore the social and political dimensions of environmental issues and analyze global relations, and consider the relationship between the environment and socioeconomic inequality.
What you will get out of this class: Students will gain a better understanding of the topic through reading and analyzing "case studies based in Chicago, other parts of the United States, and international sites to examine how people contribute to, are affected by, and try to shape contemporary environmental problems."
(No CTEC because new class/prof)
[fbshare type="button"] [twitter style="horizontal" float="left"]