How to do NU Earth Week 2015: An In Our Nature Preview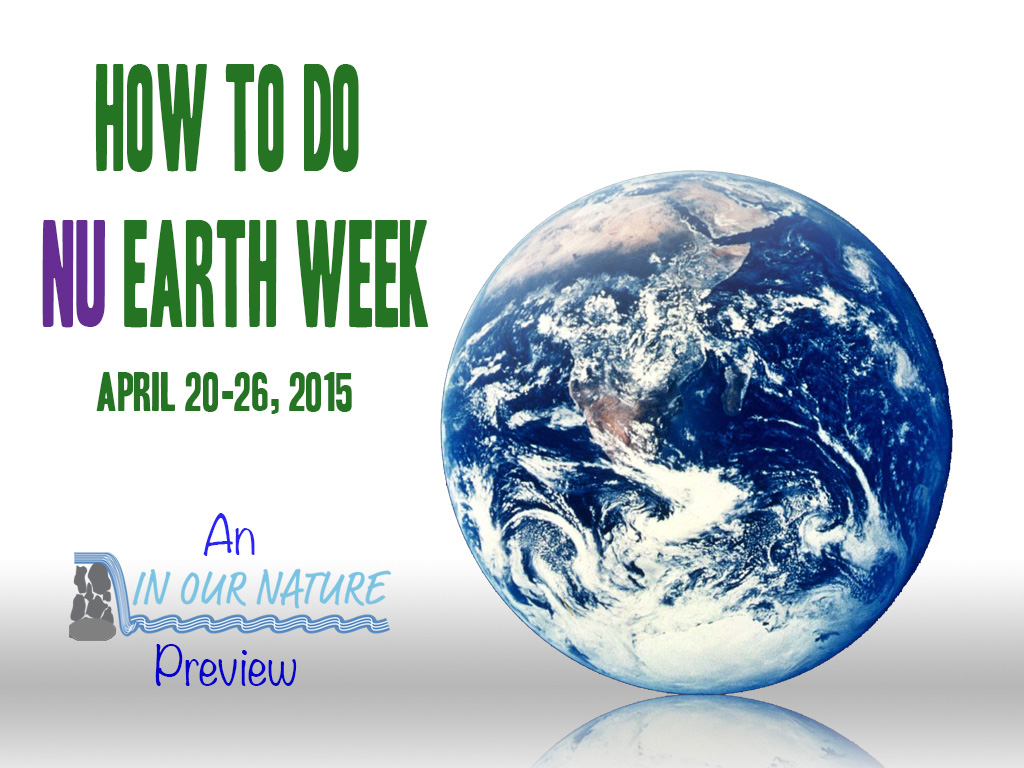 By Amanda Hermans For anyone who loves to love on dear old Mother Earth, the sheer number of ways to express those feelings during Earth Week may be a little overwhelming. That is why we at In Our Nature decided to put together a guide so that you can decide the best way to get involved in all of the environmental PDA coming up. Read on for a lovely list of all Earth Week events, and find out how you can get involved.
All Week:
Bike2Campus week: Log your bike rides all week and enter to win prizes, including Divvy memberships and Chipotle. Gain some great, defined calf muscles, and help NU win the Bike2Campus competition over 12 other participating schools in Chicagoland.
Purple Heart Shoe Collection: In honor of Earth month, the Office of Sustainability, ASG Sustainability Committee, Eco-Reps, and Athletic Sustainability Committee are working with the Purple Heart Service Foundation to collect used shoes to benefit disabled veterans and their families. Drop off your old shoes from now until April 30 in the collection bins at Norris (ground floor by the plastic bag recycling), Henry Crown Sports Pavilion, or Ryan Field weight room.
Monday, April 20:
Weigh the Waste: Sodexo is starting off Earth Week strong by sponsoring a Weigh the Waste initiative in Sargent dining hall, where they'll measure the food waste generated. According to SustainNU, they are hoping to "raise awareness about post-meal food waste and encourage diners to consciously prevent wasting food at the end of their meal."
Where: Sargent Dining Hall          When: 12 p.m.- 1 p.m.
Earth Day Tie-Dye: Do Earth Week in style by tie-dying your very own limited edition Earth Day 2015 shirt, sponsored by the Environmental Science, Policy, and Engineering Departments and McCormick. White shirts with an Earth Day design are available for $10 in either crew or V-neck styles. Then it's up to you to create what could only be described as the swag-est shirt at Northwestern.
Where: In front of Tech                  When 1 p.m.- 3 p.m.
Sustainable Starbucks Day: Want another excuse to get a soy fat free vanilla latte with whip? The Northwestern Starbucks location will take the day to promote their reusable mugs. If you stop by, you may have a chance to win a free mug or beverage!!
Where: Norbucks                             When: Normal store hours
Tuesday, April 21:
Weigh the Waste: In case you missed it on Monday, now is your chance to aim for zero food waste, and learn about food waste at Northwestern!
Where: Sargent Dining Hall          When: 12 p.m.- 1 p.m.
GREEN House Bike Wash: Did your bike get all gross and rusty over the winter? Do you enjoy putting your money towards a good cause? Members of GREEN House will be killing two theoretical birds with one stone, by washing your icky bikes, doing minor tune-ups and donating five of your dollars to the Lincoln Park Conservancy!
Where: Jacobs Center                      When: 12 p.m.- 2 p.m.
iCommit photo booth: Put your selfie stick away and make a pledge to reduce your carbon footprint by taking a picture in this photo booth, brought to you by NU Dining.
Where: Norris Center                       When: 11 a.m.- 3 p.m.
Wednesday, April 22:
Mt. Trashmore: Something monumental is coming! Weather permitting, this giant mountain of garbage will be erected outside of Lundt Hall, assembled from all the trash NU generates in one hour. Stop by to learn what you can do to prevent waste on campus, and pick up free giveaways! If this really sounds like your kind of garbage, sign up to volunteer here!
Where: Outside Lundt Hall              When: 11 a.m.- 3 p.m.
NU Dining Fresh Market: Sick of dining hall food? NU Dining will be hosting a Farmer's Market full of fresh fruits and veggies for all to enjoy. Stop by to purchase some produce and learn about NU Dining's partnership with local vendors.
Where: Norris Center Lawn             When 11 a.m.- 2 p.m.
iCommit Photobooth: If you north campus folks couldn't be bothered to stop by the photo booth in Norris on Tuesday, today it's coming straight to your neck of the woods. Stop by Sargent make the pledge to reduce your own carbon footprint.
Where: Sargent Dining Hall             When: 11 a.m.- 3 p.m.
Earth Day Celebration: Ever wonder where Earth Day got its start? Did you know that Northwestern was involved in the very first Earth Day? Come learn about the origins of NU Earth Day with displays from environmental student organizations, including SEED, Solar Car, NU Food Talks and more. There will be free catered food.
Where: Willens Atrium (Tech B wing, 2 & 3 floor)         When: 5 p.m.- 7 p.m.
Friday April 24:
Arbor Day Tree Mulching: Celebrate trees with Eco-Reps and Facilities Management by helping to make our campus beautiful. Mulch some ground, plant some trees and make the Earth happy. You must sign up by April 20 to volunteer!!
Where: Throughout campus              When: 10 a.m.- 2 p.m.
Free Earth Week Cake: Do we need to explain this one? Get to Norris, eat the cake, love the earth.
Where: Norris Center, Ground Floor        When: 11 a.m. start
Earth Hour Blackout: Northwestern Eco- Reps and Engineers for a Sustainable World are raiding the campus, turning off lights and saving the earth one classroom at a time!! Join them in their mission and score some free food.
Where: Starting at Norris Center, East Lawn        When: 6 p.m.
Saturday, April 25:
City of Evanston Earth Day & Arbor Day Clean-up: Join your fellow Evanston residents in beautifying our city. Groups will take on clean-up and tree-planting projects at several locations. Visit the City of Evanston website for information on locations and how to register.
Where: Throughout Evanston                    When: 9 a.m.- 11 a.m.
GREEN House Trip to Lincoln Park Conservancy: Join GREEN House as they head to their philanthropy, the Lincoln Park Conservancy, to beautify the North Pond Nature Sanctuary. Volunteers will be mulching, planting native species, and cleaning up litter.
Where: Meet at 2303 Sheridan Rd.                  When: 8:30 a.m.- 1 p.m.
Sunday, April 26:
NU Tree Walk: How much do you know about those trees that you pass everyday on your way to class? If your answer was 'nothing at all,' then this event is for you. Join Facilities Management on a walk around campus to learn all about the types of trees on campus, how old they are, how we care for them, and how they benefit NU.
Where: Starting at Crown Clock Tower (633 Clark St.)            When: 10:30 a.m.- 12 p.m.
[fbshare type="button"] [twitter style="horizontal" float="left"]