5 Ways to Celebrate Earth Week Around Evanston
Living in a suburb of Chicago can often leave one feeling rather disconnected from the great outdoors. And, when the little green space that does exist amidst this urban jungle is so meticulously manicured that it hardly seems natural at all, the idea of celebrating the earth seems a foreign one. So, one might ask--how can you celebrate Earth Week while living so close to one of America's major cities? The answer is, in fact, quite easily.
Below are five free ways you can partake in 'Earth Week' festivities around Evanston!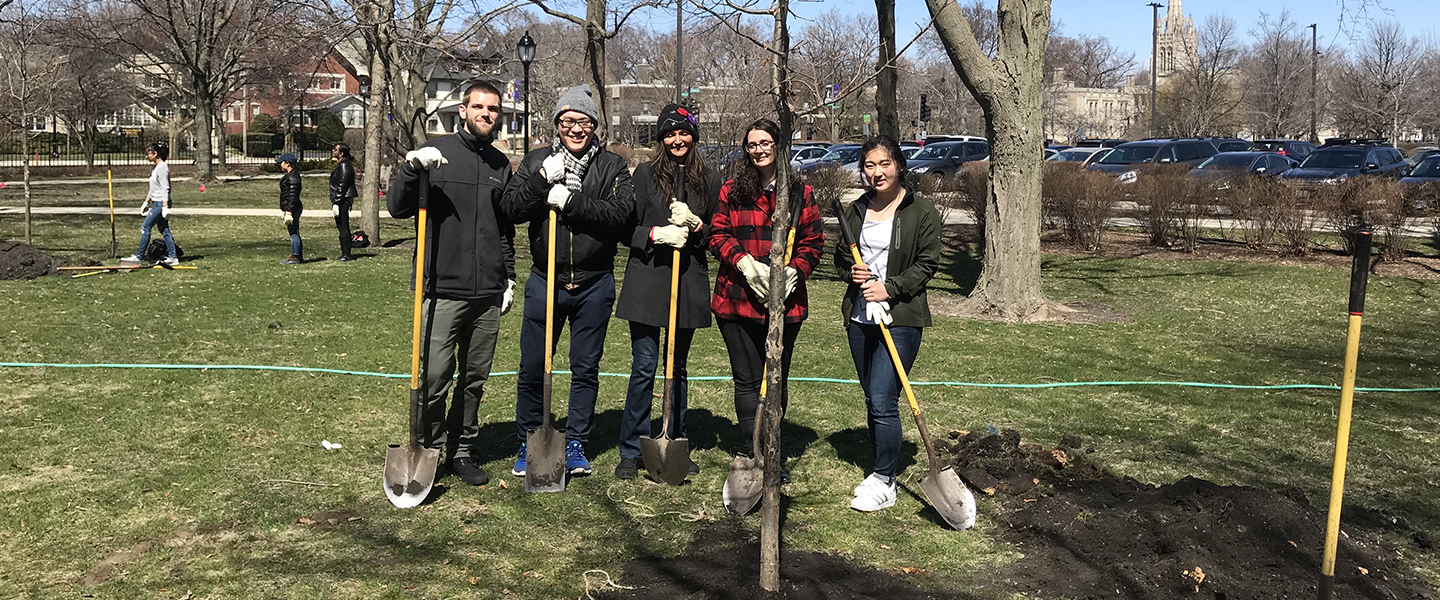 Tuesday, April 23 - Earth Day Fair
Time: 11:30 a.m. - 2:30 p.m.
Location: Wildcat Room 101, Norris University Center
Registration: No Registration Needed
Hosted by SustainNU as a part of Northwestern's celebration of Earth Month, the Earth Day fair gives students an opportunity to hang out, eat snacks, win super awesome prizes (like a pair of AirPod headphones!) and learn more about environmental issues all at the same time! Fifteen different campus groups and community partners will be present at the fair, all more than happy to engage in a conversation about social justice and sustainability, and why exactly students like us should care about the natural world around us.

Along with sustainable giveaways and snacks, the fair will have an ENERGY STAR® photo booth.
Friday, April 26 - Arbor Day Tree Planting
Time: 9:30 a.m. - 11:30 a.m. | 12:00 p.m. - 2:00 p.m. (two shifts)
Location: Meet at the Rock, near University Hall
Registration: Register for the event through this form.
This event, which is open to any Northwestern students, faculty and staff members, gives individuals at the university a chance to contribute to and learn more about the school's urban forest (also more trees means more sweet hammocking spots for future NU students). Participants will plant willow trees in the Sculpture Garden and the Lakefill lagoon bank and oak trees in the oak groves on campus.
For those of you who will only sign up for an event if they're guaranteed food: fear not--lunch will be provided between the two blocks. However, in order to encourage reuse and reduce waste, no water bottles will be provided, so it's suggested that volunteers bring their own to the planting. You should also come to the event in clothes (and shoes) appropriate for digging.

Friday, April 26 - D65 Green Teams Film Festival
Time: 6:30 p.m.
Location: One Rotary Center Auditorium
Registration: FREE tickets for this event can be found here.
Want to watch a bunch of videos with cute kids and brag to all of your friends about that one time you got into a film festival for free? (And don't worry, you don't have to tell them that everyone got in for free!) If your answer is yes, then the D65 Green Teams 10-second film festival is the perfect event for you!
The Green Team's annual film festival is an event to celebrate the efforts of Evanston District 65 students to promote more sustainable practices. Members of D65 were asked to create 10-second films encouraging others to reduce, reuse and recycle, with a specific emphasis on how to reduce the use of disposable plastic. The festival will feature a short film by 13-year-old Dylan D'Haeze, called "Plastic is Forever," followed by a screening of the D65 student submissions.

To watch some of last year's submissions, click here.
Saturday, April 27 - Clean Up, Evanston
Time: 9:00
Location: Multiple Locations
Registration: Sign up for this event at VolunteerEvanston

Serve the Evanston with the it's yearly Earth and Arbor Day community clean up event, "Clean Up, Evanston!" While the city has set up several official clean-up sites, you're not actually required to work just in in those designated areas--so if there's a specific location you want to show some love, but it's not on the list, there's no need to worry. All you need to do is "Self-organized park clean-up" as your site location when you register to volunteer, and you'll be able to clean anywhere (in Evanston, of course) you please.
After registering, you'll be able to obtain supplies for the clean-up, which can be picked up starting on Wednesday, April 24 through Friday, April 26 from 8:30 a.m. to 5:00 p.m. and on Saturday, April 27 from 8:30 a.m. to 9:30 a.m.

Saturday, April 27 - Foster Beach Clean Up
Time: 10:00 a.m.
Location: Foster Beach, Chicago
Registration: Register for the clean-up here.
United by Blue, an outdoor brand that creates products using "responsible materials" (including recycled polyester, bison and organic cotton) and also actively conducts "serious conservation work," has embarked on a waterway cleanup tour--and it's next stop is Chicago. The company is partnering with other organizations like Shedd Aquarium, the Alliance for the Great Lakes and the Chicago Parks District in order to clean a part of Lake Michigan's shoreline. Join the movement at Foster Beach in Chicago, and help United By Blue keep its promise to remove one pound of trash from waterways for every product purchased!

United by Blue will provide cleanup supplies, water, reusable water bottles and snacks. Volunteers are expected to wear long pants and sturdy shoes to the cleanup.
And with that…have a great Earth Week!